Why Companies Need Document Scanning
If your company is like most, you have paper files. Even companies who have been in business for a relatively short period of time may have based their solid business practices on paper systems. While there's nothing intrinsically wrong with a paper system that works, sooner or later, most paper-based companies find that their competitors begin outpacing them with more modern systems.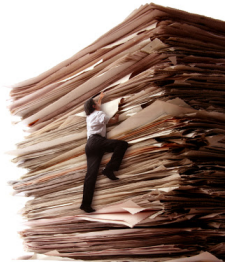 So, if your company still has file cabinets full of unmanageable paper; if you find it difficult to locate important documents with ease and efficiency; and, if you are tired of paying rent to store old paperwork, then your company should consider document scanning as an easy and affordable way to improve your business processes and maintain your competitive edge.
A document scanning service can convert all of your old paper documents into an electronic format that can be stored and shared more easily. This is often a cheaper solution than hiring storage space. Companies turn to document scanning in order to help them integrate their old paperwork with new computer systems, software and the internet. Document scanning offers the best method for maximizing space, reducing costs and improving efficiencies within the office.
The Paper Alternative Document Scanning Service
Going digital is a demanding task for any business, so we strive to make the process as simple and painless as possible for each and every one of our customers. We'll pick up your documents and prepare them for scanning by removing file folders and staples. We group like documents together for more efficient scanning, then we use high speed document scanning equipment with the most modern features in order to create the best image possible.
Depending upon the document type, we may capture identifying data manually or by using full text OCR. Our experts have the experience to determine what is most efficient and what will provide the best end result for you. Once the data are captured, they are electronically stored with your imaged documents using a secure software system that enables you to track, retrieve and manage all of your documents from anyplace, anywhere, anytime.