Get Your EDM Here!
Most people think of Electronic Document Management Software as a software program for managing documents, something like a big document database.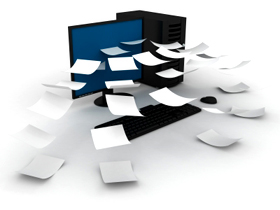 In fact, EDM software is part of an EDM System (EDMS). And, EDMS is a whole collection of technologies that work together to provide a comprehensive solutions for managing the creation, capture, indexing, storage, retrieval, and disposition of records and information assets of an organization. For most businesses, this means archived and current paper and electronic documents. It may also include video, audio and website files.
How Paper Alternative Can Help
The key to determining what an EDMS can do for your business is to let an expert review your existing business processes and determine how they can be improved by eliminating unnecessary steps and activities. Paper Alternative is that expert! With a team having combined experience of more than sixty years of consulting and providing solutions in EDMS, we take the time to ensure that your EDMS technology is implemented wisely; and, that your business can leverage the entire power of EDMS Technology interactions, including:
Scanning and Imaging — Create electronic copies of all relevant paper documents
Content Management — Provide a secure location for storing electronic objects and an efficient search method for quickly identifying, sorting and locating data. This may be in the "Cloud" or on an in-house network server.
Forms Processing — Automate form recognition and data extraction from paper forms.
Electronic Forms — Replace costly paper forms and include advanced functionality to format, calculate, look-up, and validate user information.
Enterprise Report Management — Electronically capture, search, distribute, and store system-generated reports and documents.
Workflow — Automate business processes to increase efficiency and improve decision-making.